I've spent a lot of time in Scotland over the years, some of you may know that for our anniversary my husband and I always go to Edinburgh because it's so beautiful. So when I was asked recently if I wanted to go on a shopping day trip to Glasgow with
Stenaline
, I absolutely said yes.
For many people they may have a certain image of Scotland....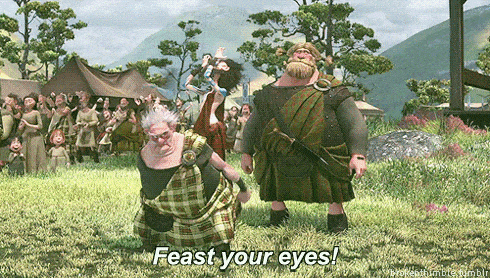 Kilts and cabers, whisky and Braveheart. Although Scotland has a fabulously rich history, Glasgow is the city with the most shopping, outside London. I didn't know Glasgow at all well, so there was absolutely no way I was missing out on the opportunity to see what it had to offer.
And quite honestly, the chance to relax, spa, shop and have an adventure, sign me up!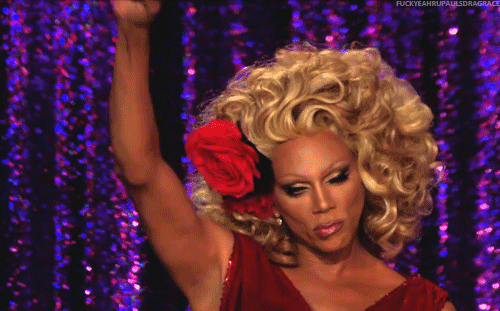 It was such a hard difficult morning for us in Stena Plus, you know it's simply exhausting sitting in huge comfortable chairs snacking on the open breakfast bar, and as many coffees as this girl could handle. Super hard. *Eyebrow*
A whole kitchen of goodies, and at 7.30am I love to see a coffee machine and of course Scottish shortbread. In the evening the Stena Plus lounge has a complimentary range of wines and snacks, you can just imagine how difficult it was for me to relax with my glass of wine and my Japanese snacks while I watched the football. I'd never been a foot passenger on Stena before and had no idea how it worked. So I was delighted to find out that it was so easy, much like on an airplane you walk through the raised tunnel and straight on board. On our way out we had the pleasure of a very relaxed breakfast morning in the Stena Plus lounge. Passengers can upgrade to the lounge for only £15 single. Quite honestly it is more than worth it just for the peaceful atmosphere and of course the free light breakfast, coffees and fridged goods. I maintain that you would probably pay more for the coffees and breakfast than the cost of the upgrade.
The beautiful Tina, a vintage aficionado
It was lovely to actually sit and chill out, it didn't feel like I was travelling apart from the occasional tiny sway of the boat. I could have been in a plush living room. It felt homey. I was able to get up and refill my latte, grab a bottle of water, fruit, or a pastry as and when I wanted, then go back to my book. The length of time didn't bother me at all (it's a 2 hour 20 crossing) many of you I think would quite happily add an extra hour.
Nordic Jacuzzi
Treatment Room
On our way back we hit the Nordic Spa, nestled at the very top of the ship. It was way more luxurious than I ever imagined with a Norwegian styled Jacuzzi and sauna, treatment rooms and manicure area.
I have to point out, they also have full length fluffy robes which is fabulous, I hate a short robe in a spa, It seemed like even though the crossing was short there were no corners cut. Cyclists arrived shortly after we left port to use the Jacuzzi and sauna, they also requested a leg massage which the therapists were more than happy to do. As I was getting my manicure with Tina; they do a range of manicure and pedicure treatments, my fellow writers were getting massages and soaking. It feels like a little sanctuary at the top of the ship and able to be used by all of the ship's passengers. The focus was definitely on relaxation for Stenaline, air travel may be faster but it is by no means as relaxing unless you're perhaps travelling first, but I'm 100% sure that you can't do that for £10. Stena Line's current deal gives foot passengers on board transport AND transfers to Glasgow for £10 return which is pretty darn good!
Jump off your relaxing cruise, and you can get on board your coach just outside the terminal which will take you right into the centre of Glasgow to Buchanan Bus Centre. This locates you opposite the enormous John Lewis and Buchannan Galleries which houses a range of high street and local stores. It also leads onto Glasgow's 'Style Mile', a square mile which has the incredibly dense array of shops, restaurants, bars, nightlife and designer boutiques. This means that should you want to go no further than across the road from your arrival spot you will have a maelstrom of shopping at your fingertips.
Slante Mhath
The fabulous girls from
People Make Glasgow
met us at the concept food court
Taste Buchanan
, which brings street food vendors into the temporary court space. There's lots of incredibly specialist food choices, from a gin bar where you can 'mix your own' from some of the finest Scottish gins around. I had passionfruit and mango with a dollop of stunning gin, a dash of tonic and it was gorgeous. The guys are very popular for parties, events and weddings (and I can see why).
There's Asian bao bun street food, wood-fired pizza made in front of you, gourmet hot-dogs, waffles and cupcakes all locally run and specialist. A really interesting and exciting move to recreate the food court.
Starry Starry Night, a vintage store with a difference
My followers had given me some pointers on where to go and more than a few suggested I go on a vintage trek into
Glasgow's West End
. I jumped in a cab and made my way to Starry Starry Night, a shop that is hidden down a little lane alongside a stunning restaurant and W2, a designer boutique stocking little gems from everywhere. The store has everything from 1970s platforms to NYPD jackets and swing coats from the 1960s. It is somewhere you really want to spend time if you can.
I jumped back in my cab and made my way to
Grand Central Hotel
, another suggestion which had an award-winning champagne room. Their 'Champagne Central' overlooks the busy rail station. So as you have your lovely chilled glass of Veuve Cliquot or Moet, you can watch everyone hurrying for their trains down below and the hustle and bustle of the busy station. It gives a lovely juxtaposition to your drink.
I had a lovely cold glass of Lanson and enjoyed the end of my day after my vintage rummaging. I always say there's something fabulous about sitting down to an incredible glass of champagne after a hard days...shopping.
So after I made my way back to our coach we took of for the boat again, a quick nap for me and I woke up just as we were outside Cairnryan, lovely. We made our way straight aboard and I spent the rest of my trip being pampered at the spa and then sipping my wine in front of the football in Stena Plus. Such a fabulous way to end a great day!
I was thinking how much fun it would be for a Christmas shopping expedition, or even a family day out somewhere new. The incredible Kelvingrove Museum has ample opportunity for exploration and with the amount of shops nearby there's loads of possibilities for trips. Golfing tours, day trippers, history buffs, foodies and shoppers were all aboard. Go have an adventure, take a day to do something new, it's good for the soul.
Much Love
*Stena Line Belfast to Cairnryan service offers a direct link from Northern Ireland to Scotland on the Stena Superfast VII and Stena Superfast VIII from as little as *£10 day return for foot passengers, or for a single car and driver for £79 (when you book 60 days in advance). You can upgrade to the luxurious Stena Plus lounge for only £15 per person single, which includes complimentary snacks and beverages. Prices at the Nordic Spa start at £10.